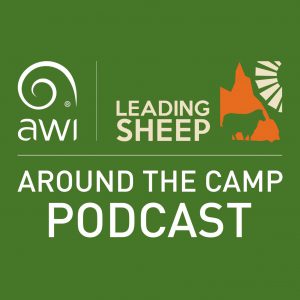 In episode three of the Around the Camp podcast, hear about how ewe pregnancy scanning can lead to more effective flock management and boost the productivity of your operation.
Hear from commercial scanner and Flockscan business owner, Bruce Toms, to understand the scanning process and on farm requirements and Thargomindah producer, Anthony Glasson, about the practical benefits of scanning and how results can drive more informed decision making.
The Around the Camp podcast is bound to have something for everyone – to listen to other episodes and subscribe to the Leading Sheep podcast click here or search 'Leading Sheep' in one of the following apps:
Don't see your favourite podcast app listed? Get in touch and we will see what we can do!
New to the podcast world?
To listen to the podcast in your browser, simply click here and you will be redirected to the Whooshkaa website. Once there, simply click play and the podcast will start playing.
For listening on a mobile phone/tablet/iPad we have created an easy to follow guide on how to access the podcast, specific to the type of device you are using.
Leading Sheep is an important partnership between the Queensland Department of Agriculture and Fisheries and Australian Wool Innovation and is supported by Agforce.
Disclaimer: Opinions contained in this podcast series are those of the individual and do not necessarily reflect the opinion of the Queensland Government and its authorities or that of Australian Wool Innovation