1. Enthusiasm for shearing and wool handling training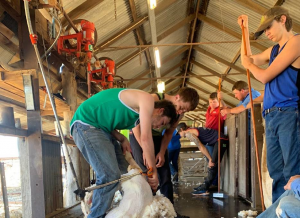 Two shearing and wool handling schools across the central west have been well supported by young people over the past few months.  Schools have been hosted in both Winton and Longreach with approximately 30 participants that were eager to learn and take up positions with local contractors.
The schools have aimed to give participants skills that would equip them well for several jobs within the sheep and wool industry.  They have been given exposure to industry leaders including experienced trainers, local contractors, agents and property owners through the schools, each offering a unique but important perspective.
We are looking for producers to host shearing and wool handlings schools in other areas. This is a great opportunity for you to support your industry.
Please contact us at leadingsheep@daf.qld.gov.au
2. Christmas share the Lamb
With Christmas just around the corner and end of year celebrations ramping up around the regions, now is the time to pull out the lamb.  For everything from canapes to Sunday roast, lamb is a great option to create a downright delicious meal.
We asked the Charleville office what they have on the menu this summer to give you some inspiration and here's what they've come up with:
Hannah Vicary: Moroccan lamb pizza
Jed Sommerfield: Lamb's fry with bacon (there's some contention in the office about this one!)
Nicole Sallur: Lamb roast – camp oven style
Caitlyn Frazer: Lemon peppered lamb cutlets
Joely Jones: Classic rack of lamb and mash potato
Cameron Wilson: Mongolian-style lamb stir-fry with steamed rice
Bec Brayley: Greek yoghurt marinated lamb shoulder grilled on the BBQ and served with a fresh garden salad
If that has your mouth watering and you're looking for more summer lamb recipe ideas, click here.
3. Traceability – more important now than ever
If a worldwide pandemic can teach the agricultural industry anything it would be the importance of traceability. While signing into every venue we visit is the new normal, we feel fortunate that the livestock industry has been doing it for years through LPA audits, the NLIS database and the use of NVDs.
If you feel you need to brush up on your livestock traceability responsibilities, Integrity Systems Company has a factsheet that links directly to in depth information and short videos to help you ensure that you are meeting your obligations.  Check it out here.
4. Retaining your top performers in 2021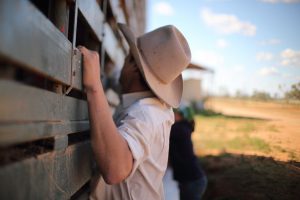 When we think of our top performers our mind might go to fertility, fibre diameter or staple length and strength, but have you considered the impact that your staff have on your business performance?
The benefits of retaining people are tangible – contributing to the culture, knowledge, experience, and understanding of your business. Skills can be transferred and taught to a new person, but these things cannot.
As 2020 draws to a close, now is the time to consider how best to retain your top performers or to contemplate how you might do things better next year.  Click here for five tips to proactively reduce the "New year, new career" desires of great staff members.
5. Upcoming Leading Sheep events
Early 2021 – Excel in Business – Quilpie & Talwood. To register your interest contact Jed Sommerfield.
6. Upcoming events.
7. Podcast, eBulletin and surveys