1. Merry Christmas and Happy New Year from Leading Sheep!
From the Leading Sheep team to all our subscribers, we wish you all a happy and safe Christmas and New Year!
With many regions recording some good rainfall totals already, let's hope 2022 is the year of good grass and great prices!
2. How to Buy and Sell Sheep: Webinar recording available
Looking for an excuse to hang out in the aircon, alone? Why not catch up on the recording of our final 'H Series' of webinars, How to buy and sell sheep, with Gus Foott from Nutrien Charleville?
This webinar covers the common methods of buying and selling sheep and the positives and negatives of each. Check it out on the Leading Sheep website under Resources > Recorded Webinars / YouTube Videos
3. Agritourism grants available now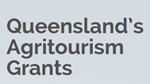 Forget sourdough and yoga, 2022 is the year of agritourism!
The Queensland Farmers' Federation (QFF) has partnered with the Queensland Government to deliver the Queensland Agritourism Grants Program.
On offer is a 50% co-contribution up to a maximum of $25,000 to assist farmers and graziers to establish or expand into agritourism by employing professional or specialist services or constructing or modifying on-farm infrastructure.
Round one applications close 10 January 2022. Read more here.
4. MLA's Carbon Catalogue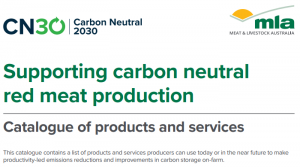 If you're finding the carbon scene a little perplexing, this is for you.
MLA has recently released a catalogue of the products and services supporting carbon neutral red meat production.
The catalogue showcases products and services such as GHG accounting tools, certification providers, livestock supplements, forages, genetics, grazing management techniques, and relevant training courses and events.
Check it out here.
If you'd like to see some events in the new year on carbon accounting, contact our central west extension officer, Pip Gilmore via Phillipa.gilmore@daf.qld.gov.au, and let us know what you want more information on, or to suggest speakers you'd like to hear from.
5. Upcoming Leading Sheep events
Friday 25th March: MLA MeatUp and Leading Sheep Forum, Longreach. Save the date, more details to come in the new year.
6. Upcoming events
Wednesday 9th February: Grazing Fundamentals EDGE, Miles. Delivered by Jill Alexander, more info here.
Wednesday 23rd & 24th March: Goondiwindi Region Agribusiness Summit, Goondiwindi. Delivered by Macintyre Ag, contact Louie Carroll on 0428 738 125 or email admin@macintyreagalliance.com
Monday 6th & 7th June: Business EDGE, Blackall. Delivered by Ian McLean, more info here.
Thursday 9th & 10th June: Business EDGE, Roma. Delivered by Ian McLean, more info here. 
7. Podcast, eBulletin and surveys