1. Lifetime Ewe Management in St George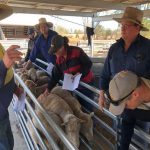 Do you want to improve your weaning percentage? Producers participating in Lifetime Ewe Management (LTEM) in other states have increased their weaning percentages per hectare by 30%! So what do they know that we don't? A new LTEM group in St George is finding out and you can get involved too. This group is keen to maximise investment in infrastructure such as fencing and shearing sheds by improving their productivity. The group meets on-farm, several times throughout the year-long program with consultant Geoff Duddy. Read more about the who's in the group and what they've learnt by clicking here.
If you want to get involved with LTEM – let us know! Click here to send us an email and let us know you're keen.
2. Snakes in the grass? Oh my!
A report on the Eastwood Grazing Trial, a long term sheep buffel grass grazing trial, which ran from 1967 to 1982 conducted at 'Eastwood' Blackall, has finally been drawn together thanks mainly to Dr. Richard Silcock. Whilst it doesn't include highlights such as when I was nearly bitten by a really unhappy brown snake or when I drove a motorbike into a locked cocky gate and went sailing over the handle bars, it does capture valuable long term stocking rate information for buffel country of the Central West. Thanks to the Gall family from Eastwood for their help and assistance. ~ Noel O'Dempsey, Leading Sheep Regional Coordinator
To read the report click here.
3. Mobile shearing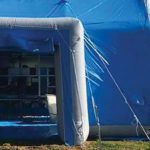 Think jumping castle cross shearing shed. Mobile shearing is a recent alternative to building or upgrading a shed, and it provides a viable option for small scale producers or those wanting to try wool sheep without the infrastructure. Jim Murray from 3D shearing has a trailer based option with an inflatable shed cover that can provide up to three stands. Given the expense to build or upgrade a shed, many properties have aging sheds. So this mobile option could also be a game changer for producers wanting to access more up to date designs, like a short drag system and other safety features.
To read more about it in AWI's Beyond the Bale, click here and go to page 52.
4. Podcast fans put your hands up
Have you listened to a good podcast lately?
Would you like to recommend it?
There are plenty of podcasts available on every topic imaginable. It might be a 10 minute drive to the mailbox or a 4 hour water run, there is a podcast for you. There are that many podcasts available, one of the challenges is finding one that you like. Have you recently listened to a podcast episode that you would recommend to other producers? Just reply to this email to send us your recommendation!
For a start, we recommend the episode: Succession planning nuts and bolts, plus find lots of other podcasts in the podcast section below.
5. Upcoming Leading Sheep events
TBC – Excel in Business – Quilpie. Keep an eye on our event page for updates.
6. Upcoming events
7. Podcast, eBulletin and surveys