1. Hot sheep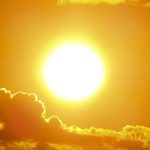 Sheep are usually much smarter than their owners when it comes to hot weather. We persist in working in the hot Queensland sun whilst the sheep are resting in the shade.  Rams also have their heat sensitive bits, out cooling in the breeze (no tight or close fitting underwear here).  Sheep, particularly rams, can however suffer ill effects if mustered or handled in the heat of the day, following flystrike or infection, or if inadequate shade is available in the paddock or yards etc. Rams can be rendered infertile for seven weeks and ewes can abort, especially early foetuses.
If you would like to know more, click here to request a call back from DAF Extension staff.
2. Are you storing wool?
Are you one of the many producers holding off selling your wool and instead storing it on farm or with a broker?
Leading Sheep published an article in the Queensland Country Life where we heard from Bruce McLeish, Queensland wool manager for Elders, and got his thoughts and suggestions around storing wool on farm or with a broker.
The article includes tips and ideas to make your wool more secure in your shed and what you can do to maximise the c/kg you receive for your wool.
To read the full article, click here.
3. We want your maggots!
Researchers from Melbourne University are seeking woolgrowers from across the country (especially Queensland) willing to contribute to the final year of an exciting three year blowfly project. The AWI funded project is examining the genetic make-up of blowflies from across Australia. This will increase our understanding of any regional blowfly genetic and behavioural differences.
To get involved, contact Clare Anstead and the team (details below) and they will send you a collection kit.  Then if you have a struck sheep all you will need to do is simply collect the maggots/adult flies (alive or dead) in the tube provided, fill in a short sample collection form with a few details (including collection location and date) and send both back to the University of Melbourne in the reply-paid envelope.
For more information or to request a blowfly maggot collection kit, please email blowfly-collection@unimelb.edu.au or phone (03) 8344 2362.
4. Merry Christmas
We're sure you've all got plenty to do so you can knock off early for Christmas so we'll keep it short. Have a great Christmas break and we wish you a wonderful (and wet) start to the New Year.
If you need advice or assistance over the Christmas break please don't hesitate to contact us at leadingsheep@daf.qld.gov.au and we'll do our best to get back to you as soon as possible – between the Christmas cheer!
5. Upcoming Leading Sheep events
Early 2021 – Excel in Business, Quilpie & Talwood. To register your interest contact Jed Sommerfield.
12 March – Leading Sheep Forum & Dinner, Longreach. Save the date.
6. Upcoming events.
29 Jan – Pasture & Weed Field Day – Cunnamulla by GrazingFutures. For more information contact Lucas Mackie at lucas.mackie@sqlandscapes.org.au
8-10 Feb – Nutrition EDGE – Chinchilla by

Désirée Jackson Livestock Management

. For more information click here.
7. Podcast, eBulletin and surveys