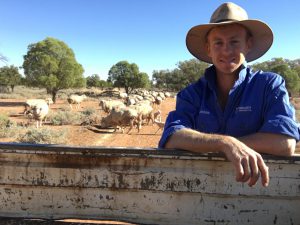 Being willing to adopt new technology and utilise effective, information networks will be key to the future success of the state's sheep and wool industry according to one of Western Queensland's younger producers.
Jesse Moody works alongside his parents, running Abbadoah and Yarmouth, with the properties making up around 56,000 hectares of mulga and Mitchell grass grazing country near Cunnamulla.
He returned to the family operation in 2011 determined to succeed in the sector after completing an apprenticeship.
Since returning home he has joined Leading Sheep, a proactive network of Queensland sheep and wool businesses committed to equipping progressive producers with knowledge, skills and the latest technology to increase productivity and profitability.
Now Mr Moody is also a producer representative on Leading Sheep's 10-member state advisory panel.
The panel helps identify industry and producer priorities and opportunities for extension and information-sharing geared towards on-farm gains.