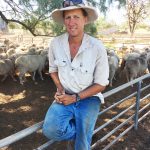 A Blackall sheep and wool producer says introducing a pregnancy-scanning program can improve flock fertility by 10 to 15 per cent within a 12-month period, as well as allow producers to fine-tune ewe management.
Ben Banks and his wife Oona manage the 46,500 hectare family property, Rivington, west of Blackall, where they run 25,000 Merinos (when the season permits).
For close to a decade the couple have also operated a contract pregnancy-scanning business, processing around 100,000 head of sheep a year.
With sheep numbers on the rise nationally, driven by buoyant wool prices and improvements in the industry outlook thanks to wild dog fencing, Mr Banks said breeding flocks were becoming increasingly valuable.
"A shortage of sheep numbers is driving prices, so that in turn is encouraging producers to place extra emphasis on breeding programs," Mr Banks said.
"Improving the fertility and productivity of your own flock is the most cost-effective way to boost your sheep numbers."
Mr Banks – the Western Queensland producer, said he had used pregnancy-scanning as an integral part of his own operation in recent years to lift production and in turn bolster profitability.
"I think scanning is one of the most untapped resources especially in my part of the state, where there is so much potential for improving management of pregnant ewes," he said.