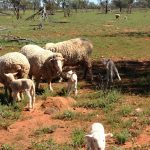 Queensland sheep and wool producers have been advised they need to get the right ewes, on the right feed, to successfully raise lambing and weaning rates as the State's flock rebuilding starts in earnest.
Sheep and wool advisor Geoff Duddy from Sheep Solutions is a consultant that has shared his expertise at Leading Sheep webinars and workshops on a range of industry issues.
Mr Duddy said with increased funding available for predator control fencing, Queensland producers were considering how they might increase their sheep numbers.
He said with sheep meat prices on the rise producers were repeatedly asking him the key to lifting reproduction rates.
Producers needed to look at genetics, nutrition and management, which were all readily influenced at property level, if they wanted to improve lambing and weaning percentages.
Ewe efficiency is also a critical part of the production equation.
"To start making gains in reproduction rates producers need to identify and cull the ewes that aren't raising lambs – it's commonly accepted that upwards of 30 per cent of ewes are responsible for 60 per cent of lamb losses," Mr Duddy said.