A modified feeder design has taken some of the hard work out of feeding cotton seed to ewes for Nindigully producer Jeff Betts.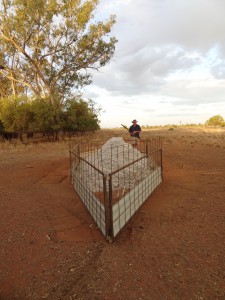 Mr Betts built the feeder from basic materials to solve the labour problems associated with regular feeding of cotton seed, as well as the problems of managing shy feeders during trail-feeding.
Jeff and Wendy Betts run 6000 ewes on their Nindigully property 'Chelmer' and have been using the feeder for lambing ewes during dry times since the 1990's.
"With this system, the cotton seed is in the paddock 24 hours a day," Mr Betts said. "I use a tip truck to put a week to 10 days' worth of cotton seed into the feeder at a time. This makes it significantly less labour-intensive than shoveling feed out by hand every second day."
To read the full story and get the details on how to make it, click here.