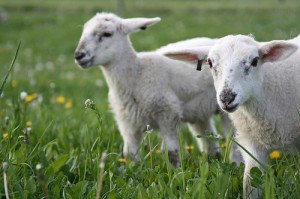 Sheep producers have been challenged to breed more lambs from existing flocks, to capitalize on surging global demand for meat.
A combination of better genetics, feeding and management held the key to keeping up with the market for lamb and mutton, producers heard at a field day held in Goondiwindi on December 9th.
The field day, titled Bred Well, Fed Well, was delivered through Making More from Sheep, a joint initiative of Australian Wool Innovation and Meat and Livestock Australia. It was organised by the Leading Sheep South East Region.
South East Committee member Mark Murphy from Karbullah, Goondiwindi provided a pen of sheep used for a practical condition scoring demonstration.
Keynote speaker Jason Trompf from Victoria said improving productivity of the Australian flock could supply more lambs across Australia without further eroding a critically low breeding numbers.
Dr Trompf told the gathering of more than 60 producers that it was possible to rebuild flock numbers and maintain turnoff at the same time.
Dr Trompf was senior author of the Lifetime Ewe Management Program, developed by the Sheep CRC, which is now being introduced in Queensland.
Combined with superior genetics, it equips producers with the management skills to significantly improve their flock performance.
Dr Trompf said improving sheep reproduction rates which had been static for the past 20 years was the key to better profits.
"We are marking 32 million lambs from a breeding flock of about 38 million ewes which is less than ideal."
"There are management changes you can make to improve conception, lamb survival and weight gains," Dr Trompf said.
Hamish Chandler from Sheep Genetics Australia at Armidale urged producers to use Australian Sheep Breeding Values to select better rams and boost their flock performance.
"There are about 75,000 rams available every year. Your challenge is to identify which ones will perform best under your conditions. You can turn off more, heavier sheep at a younger age."
The fertility of the Australian Merino flock could be lifted to increase production and keep up with strong global demand for meat which was set to continue for a number of years.
"We have the tools and the knowledge available to make significant gains, to business a whole lot better," Mr Chandler said.
Western Australia sheep genetics researcher Mark Ferguson told producers that a focus on meat traits would add value to their Merino flocks which had traditionally been generating income from wool.
"We are now looking at a totally different animal to the early 1990s where wool is becoming more of a by-product," he said.
"The information you need to increase the profitability of your enterprise is out there. It is not a pipe dream, Mr Ferguson said.
Leading Sheep Project Manager Tony Hamilton said the enthusiastic response to the Goondiwindi day showed there was a real thirst for information to improve flock performance.
"Coupled with the terrific season across Queensland and strong prices, we could see some real gains being made by the sheep industry."
"The Lifetime Ewe Management Program has been very successful in the southern States and there is interest in groups of Queensland producers wanting to participate," Mr Hamilton said.