Biosecurity: Foot and Mouth Disease
Whilst the threat of exotic disease is ever present, the recent detection of Foot and Mouth Disease in neighbouring countries is a concern. Foot and Mouth Disease (FMD) is a highly contagious viral infection caused by the picornavirus. It infects a wide range of cloven-hoofed species including sheep, cattle, goats, pigs, buffalo, deer, and camelids. Infected animals may show fever, drooling and be reluctant to move and animals can suffer from blisters on the mouth, snout, tongue, lips or between and above the hooves on the feet. FMD is considered one of Australia's greatest biosecurity risks and would have severe consequences on our livestock and livelihoods.
In sheep and goats specifically, the disease is usually mild with few lesions, which of greatest concern, because a small sign ignored may lead to a significant outbreak. It is therefore important that if you have any suspicion, the safest option is to raise your concern either with your vet, the Emergency Animal Disease Watch Hotline on 1800 675 888 or Biosecurity Queensland on 13 25 23. Save these numbers in your mobile now!
Most of us can't control the introduction of FMD to Australia but there are some measures you can take to prepare for and minimise the risk of an outbreak. Build your awareness by seeking out reputable resources on the disease, stay on top of traceability, review your biosecurity plan and ask for help from your local extension or biosecurity officer, aka stockie. Visit Australian Wool Innovation's biosecurity risk assessment tool and the Farm Biosecurity website to develop a useful, practical biosecurity plan.
More information on the disease, its symptoms, impacts, prevention, etc can be found via Dept of Agriculture (DAWE) and Business Queensland. An article in AWI's June issue of Beyond the Bale, FMD international outbreaks a warning for Australia, highlighted the South Africa FMD experience and learnings we as an industry can take. Section 7 provides specific podcast episodes that explore the impact of FMD and Lumpy Skin Disease on trade.
Please let us know if you are interested in more information about FMD/biosecurity that we can distribute or produce. Stay tuned for an Around the Camp podcast episode on biosecurity.
Mammoth Merino Miles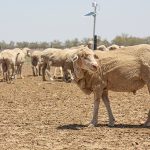 A Central Queensland University (CQU) research team has been exploring the use of on-animal sensors to investigate sheep behaviour and welfare issues. The information collected from these sensors – in the form of GPS collars and accelerometer tags – can be used for understanding the grazing pattern of sheep, predator detection and lambing events.
Queensland Country Life recently published an article on this research, revealing the extreme distances rangeland Merino sheep can travel in a day. Variation in the daily distance travelled by individual  sheep was significant, ranging from 1.87km to 16.94 kilometres per day. Such information may be useful for producers when accounting for animal welfare and animal intake and demand in dry times. Sheep Central recently published an article on the application of this technology in the detection of wild dog attacks.
The Ekka, 2022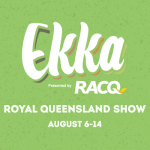 After two years break from COVID-19 disruption, the Queensland Royal Show (Ekka) will be back in 2022 from the 6th-14th August. Not only an exhibition of Queensland's livestock and agricultural production, the Ekka is an important event to maintain strong connection between urban and rural regions.
From fleece judging, agricultural displays and the Australian Young Farmer Challenge, to showbags, natural fibres fashion and live music, Ekka offers something for everyone. Visit the Ekka website learn more.
Leading Sheep farewells one, welcomes another
Leading Sheep would like to thank Longreach extension officer Pip Gilmore for her enthusiasm, dedication and drive during her time with the project and wishes her luck for the future. Pip has left an enduring legacy of ideas, energy and, of course, in her work with the Barcaldine producer demonstration site group.
Over the last few weeks Pip has been handing over the reigns to Millie Nicholls, extension officer Longreach. Millie has recently completed her masters in agriculture, with a background in natural resource management, integrated pest management and aquaculture. Millie can be contacted at millie.nicholls@daf.qld.gov.au, on Pip's previous number 0428 102 841 or in person at as many sheep-related events she can get to in the coming months!
Upcoming Leading Sheep events
Early August (Date to be confirmed): Conducting Worm Egg Counts, Bollon. Email us here to register your interest.
Upcoming events
Podcast, eBulletin and Surveys
Biosecurity specific podcast episodes:
"Getting our meat trade back", with guest Andrew Henderson, consultant and chair of the SAFEMEAT advisory group discuss the impacts of Foot and Mouth Disease and Lumpy Skin Disease on trade, and the role of EID tags, with AgWatchers hosts Andrew Whitelaw and Matt Dalgleish. Listen on Spotify or Apple podcast, 46 minutes.
"FMD & LSD – has the risk increased?", with Meridian Agriculture's Mike Stephens and Mecardo director, Rob Herrmann on Commodity Conversations. Listen on Spotify or Apple podcast, 27 minutes.